Equitable remuneration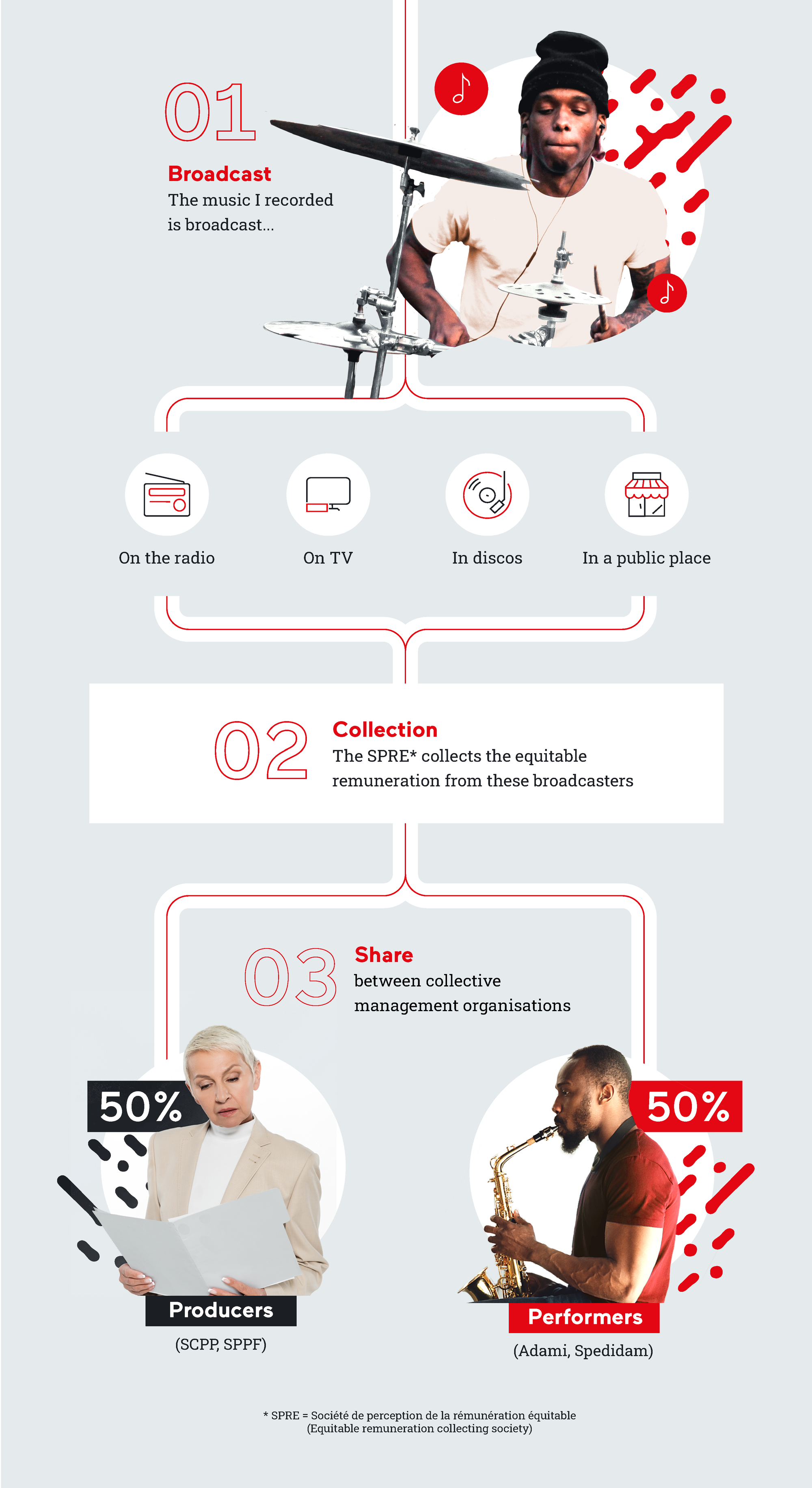 Do you have a question ?
How is equitable remuneration distributed?
Our services have broadcast records provided by radio, television and other public broadcasters to calculate the individual remuneration of performers and supplement this information with sales declarations.
The calculation of equitable remuneration is based on:
the duration of the phonogram

the number of its broadcasts
The identification of the performers of the phonogram, the assignment of the role (conductor, soloist featuring, remixer / DJ, sample) and the musical category of the work (classical, lyric, variety …) are made thanks to our database.
According to the law, the remuneration is distributed to the performers of phonograms fixed in a country of the European Union or in a country signatory of the Rome Convention.
Which broadcasters are considered for equitable remuneration?
As part of the equitable remuneration only the following broadcasters are considered.
TV channels in France:
The 7 so-called "historical" channels: TF1, France 2, France 3, Canal+, France 5, Arte et M6 ;
and, since January 1, 2012: TMC, France 4, TFX (previously NT1), C8 (previously D8), W9, NRJ12, Gulli and C STAR (previously D17).
List of radios:
National Radios
RTL
EUROPE 1
The local radios Paris
NRJ
FUN RADIO
SKYROCK
RFM
NOSTALGIE
VIRGIN RADIO (EX EUROPE 2)
CHERIE FM
RTL2
RIRES ET CHANSONS
RADIO CLASSIQUE
MONTMARTRE FM
Radio France (regroupement)
City Radio de PARIS
Elsass
FIP
France Bleu (Bleu Banque, ex : Modulation)
France Bleu (Bleu National Textes)
France Culture
France Info
France Inter
France Musiques
Mouv
Alsace
Armorique
Auvergne
Auxerre
Azur
Basse Normandie
Béarn
Belfort
Berry Sud
Besançon
Bourgogne
Breiz Izel
Champagne
Corse
Cotentin
Creuse
Drôme Ardèche
Gard Lozère
Gascogne
Gironde
Haute Normandie
Hérault
Isère
La Rochelle
Limousin
Loire Océan
Lorraine Nord
Maine
Mayenne
Nord
Orléans
Pays Basque
Pays de Savoie
Périgord
Picardie
Poitou
Provence
Radio Outremer 1ère
RFI
Roussillon
Saint-Etienne Loire
Sud Lorraine
Toulouse
Touraine
Vaucluse
Diffusion readings of a representative panel of local and associative radios (unaffiliated IPSOS and YACAST)
Ado FM (Paris)
Alouette (Nantes)
Champagne FM
Contact FM (Lille)
HIT WEST
Kiss FM (toulon)
Oui FM (Paris)
Radio 6
Radio Espace
Radio FG
Radio Latina
Radio Nova
Radio Star Méditerranée
RCI Martinique
Scoop FM (Lyon)
Top Music (Strasbourg)
TSF Jazz
Vibration (Orléans)
Vitamine (Marseille)
Voltage FM (Paris)
Wit FM (Bordeaux)
Public places with sound
Hypermarkets and supermarkets
Relevé de Mood Média (sonorisateur)
Nightclubs : Yacast club
Diffusion readings from the Media Control system installed in discotheques Representative panel determined by the TNS.